By Standard Media : Written By Benard Sanga
Grace Munene is a local singer who is openly lesbian and reports the tribulations, which include public assaults she has gone through as she tried to fit in a society hostile to her
Grace, who is engaged to her fiancé has been stripped thrice over her manly looks
The law in Kenya prohibits sodomy but it's stand on lesbianism is not clear
Grace Munene alias 'Grammo Suspect' is not a woman with feminine fancies, or airs. The narrow-shouldered, triangular-jawed young woman exudes calm and a no-nonsense air about her that puts you on guard as soon as you meet her. Many in her Lesbian Gay Bisexual and Transgender (LGBT) circles refer to her as 'Butch', which loosely translates to a masculine female.
In 2016, Grammo Suspect openly came out of the closet, declaring to all and sundry that she is a lesbian and later publicly proposed to her fiancée, Ms Queen Timeka. Queen is a beautiful woman in her 20s and Grammo is totally besotted with her.
"She is the most grown-up, focused, supportive, caring, loving, responsible and sexy and beautiful woman I have ever met," she says, batting her eyelids.
The two love birds met in Nairobi on November 11, 2012 during a meeting for the LGBT community in a popular restaurant along Koinange Street.
"I was distributing my music album in the crowd when my eyes fell on the most beautiful girl I have ever seen. Her beauty struck me. She was the quiet one in the noisy crowd. But what really took me in was her smile, and she was well endowed. I loved it," she admits bashfully.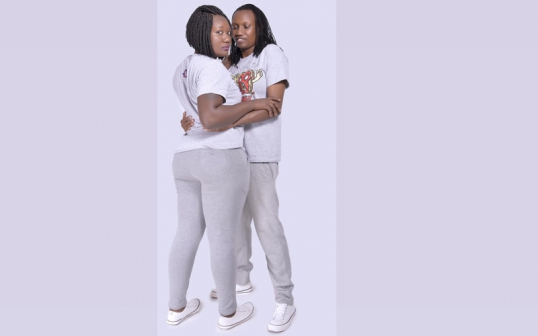 In a society where same sex relationships are a taboo subject, you will be in awe of her bravery, going against the norms and living life on her terms.
"Oh, not just yet. It has been a tough journey fraught with frustrations and death threats. And It is a struggle for people like me," she sighs.
The physical assaults
"Even before I came out to the world, I had identity crises because of the frame of my body. Even if I clad in a buibui people still think I am a man," she says.
In 2005, Grammo was physically assaulted in Mombasa's Bamburi area after a group of men accosted her and demanded that she stripes naked to prove that she was a woman.
"I've actually been stripped naked thrice in Mombasa. In Bamburi, four men accused me of planting fake breasts and forced me to remove my T-shirt so that they can confirm my gender," she says.
And it isn't just the men who take issue with her appearance. In early 2006, Grammo was also forced to undress in Kwale's Diani town after some women raised alarm, accusing her of being a male robber camouflaged as a woman in a buibui dress.
What about her family?
"My aging mother is not on social media, where everyone knows, but I'm sure she knows. All my brothers and sisters know that I am a lesbian but no one has ever dared to confront me," she says.
Her struggle to conform has not been easy. Born in 1982, and growing up in Mpeketoni area in a staunch Christian family, the little lass had big dreams for her life. While in her third year of high school, Grammo says that she started developing strange feelings towards girls in the school.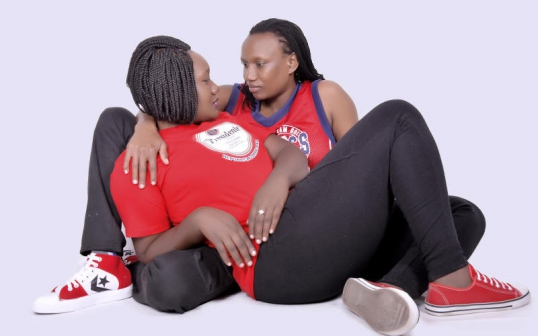 "I really liked the girls. I was attracted to them, and not the boys, like I knew I was supposed to. Being a Christian girl, I strongly fought and rebuked those feelings through prayers and fasting. I really tried. I fought off my attraction and managed to finish high school amid my frustrations."
In 1999, she sat for her KCSE exams and then moved to Nairobi where she stayed with her relative for three months hoping that would join a college.
"Life was very hard then. My brother had promised to pay for my college education but he couldn't. And I had to survive," she says.
In 2002, she joined a life of crime in Nairobi's Kayole area. Although she is hesitant to share the details, she admits that she was arrested several times.
How she finally came out of the closet
In 2004, Grammo moved back to Mombasa to venture into music and recorded her first song 'Mbaka Leo'.  Coincidentally, Grammo says this is the year she also lost the fight of hiding her true feelings.
"I started to get more attracted to women but I did not tell anyone. I become depressed and started using drugs. I was very angry because I was also under attack from members of public who believed that I was actually a lesbian but was hiding it," she says.
In 2012, she decided to take the bold step. "At first, I announced through social media. And though I have never regretted the decision, I was insulted and even threatened more times than I can count," says Grammo.
Before meeting Queen and knowing that she was the one, she had dated older women. "I believed that is how I would get a serious life partner, but with Queen, who is much younger than me, I know I have found my perfect fit."
Since Grammo came out publicly, she says that many people have written to her expressing their feelings with other seeking encouragement or advice on how they can also come forward.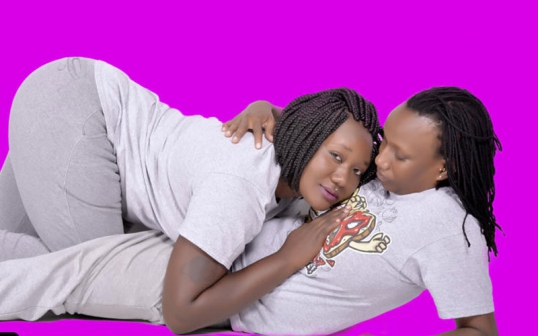 "The biggest fight one has to overcome is to first accept herself. You cannot expect the community to accept you if you have not accepted yourself," she says.
Dynamics of same sex relationship
One may sympathise and even wonder about the workings of their relationship. "We work just fine. We both do house chores.  We put our money together, pay whatever bills need to be paid and whatever is left over we decide what to do with it," she says.
The couple recently celebrated their one-year anniversary since their proposal. Today, the songstress uses her music to create awareness about lesbian, bisexual, transgender, queer or intersex relationships despite rising threats to her life.
Last year, she released a popular spoken word poetry 'Our Love is Valid' and later 'Injustices', featuring Ugandan artiste Poyzone.
'Injustices' narrates the tribulation of atrocities some members of the LGBT community in Mombasa go though.
Blacklisted on local FM radio playlists
Though happy with her life's choices, they have impacted her musical career.
Since publicly declaring that she was a lesbian, her music does not enjoy airplay in some of the radio stations.
"Even some music recording studios have blacklisted me. I know of 20 cases where members of LGBT have been fired from their jobs and several students expelled from schools because they are lesbians. It is very sad that the community has decided to bury its head in the sand as if these things do not exist," she laments.
How about her life's choice and her faith? "I believe lesbian, gay and bisexual people to be a part of God's creation, created to be just who they are and completely loved and treasured by God," she explains. "I believe in a compassionate God."
She adds that homosexually is not just another form of sex but also a form of love and it deserves respect adding that the perception that gays are together because of sex were mistaken.
What the law says
The Kenyan law prohibits sodomy, but it isn't altogether clear on its stand on lesbianism. Sodomy attracts a penalty of up to 14 years imprisonment.
Although on the decline, same sex marriages among village women is practiced among the Gikuyu, Nandi, Kamba, Kipsigis among others. Especially when one is barren.
The woman, mostly older, is allowed to get a younger woman who sires children with her (the older woman's) husband but the children belong to the barren woman.
In extreme cases where the barren woman has no husband, she is allowed to hire a man, specifically for donating sperm to the barren woman's wife! However, no sex of any form is allowed between the two women.
Religious leaders in Mombasa have called for tough penalties against those practicing LGBT, even as suspected gays continue to openly get harassed in the streets of Mombasa and other big towns.
"Lesbian, bisexual or transgender is not a choice. Nobody would want to live or choose a life of agony like the one were living," said Grammo when asked about push for harsher penalties on the LGBT community.